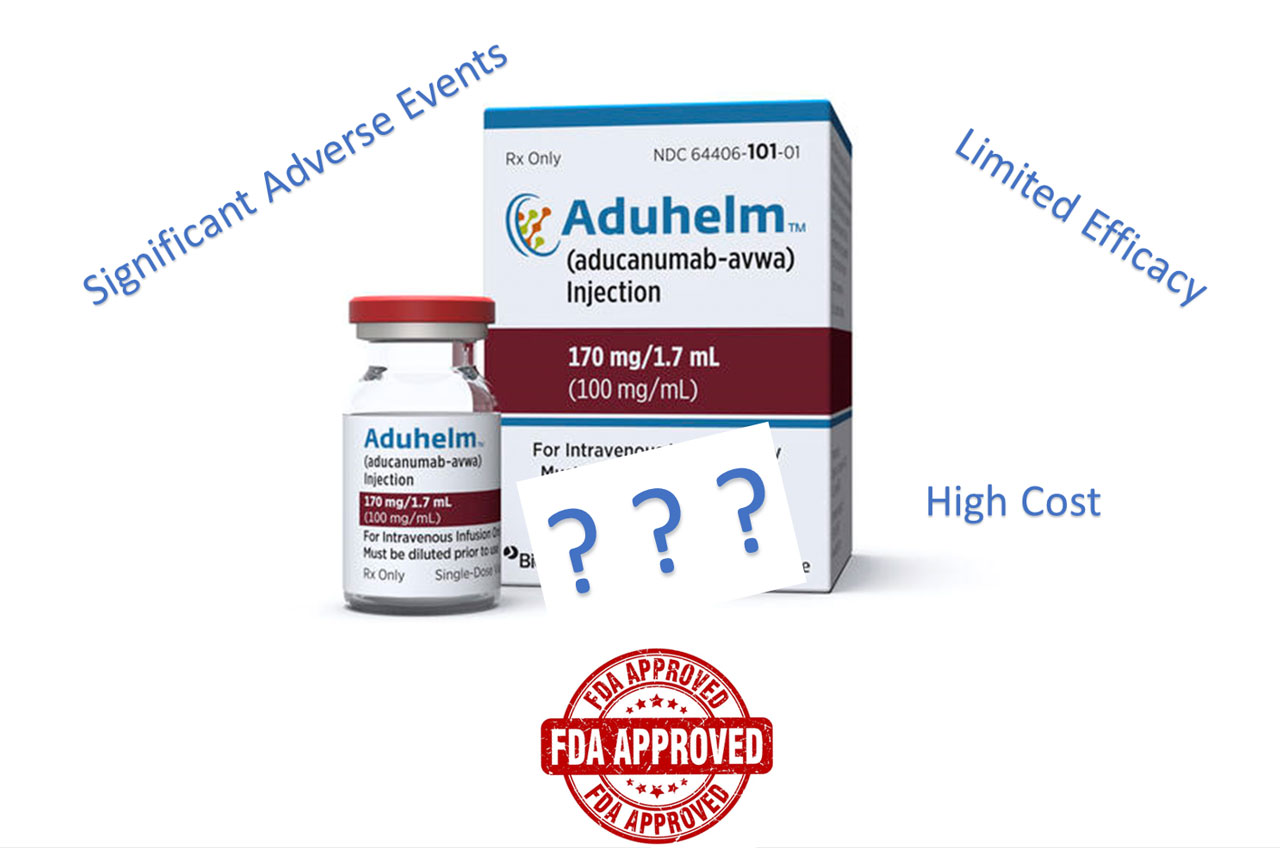 I have a question for you. (Please answer at the bottom.) IF you had mild Alzheimer's Disease, would you want to try a new medication Aduhelm (aducananabab)? As I get older, this is no longer a hypothetical question. It hits closer and closer to home as some of my friends are starting to develop signs of the disease. The disease is so common that some people get the disease when they have only one risk factor: aging.
What is Aduhelm?
Aduhelm is a recently approved drug for the treatment of Mild Cognitive Impairment and mild Alzheimer's Disease. It is an antibody that stimulates the immune system to destroy amyloid plaque in the brain. Amyloid has long been felt to be a major cause of Alzheimer's Disease.
How "good" is Aduhelm?
There is controversy about whether Aduhelm is an effective medication.
In 2019 several trials were stopped because the data did not show any clinical impact on the disease.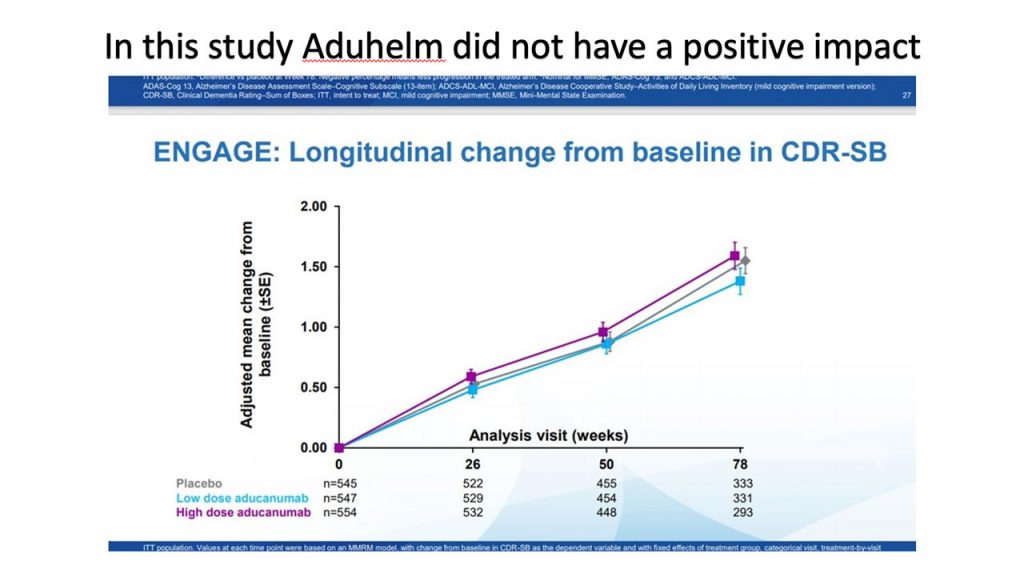 But when more data became available, one of two studies showed positive results. In that study, patients who received the higher dose of Aduhelm had a slower rate of decline.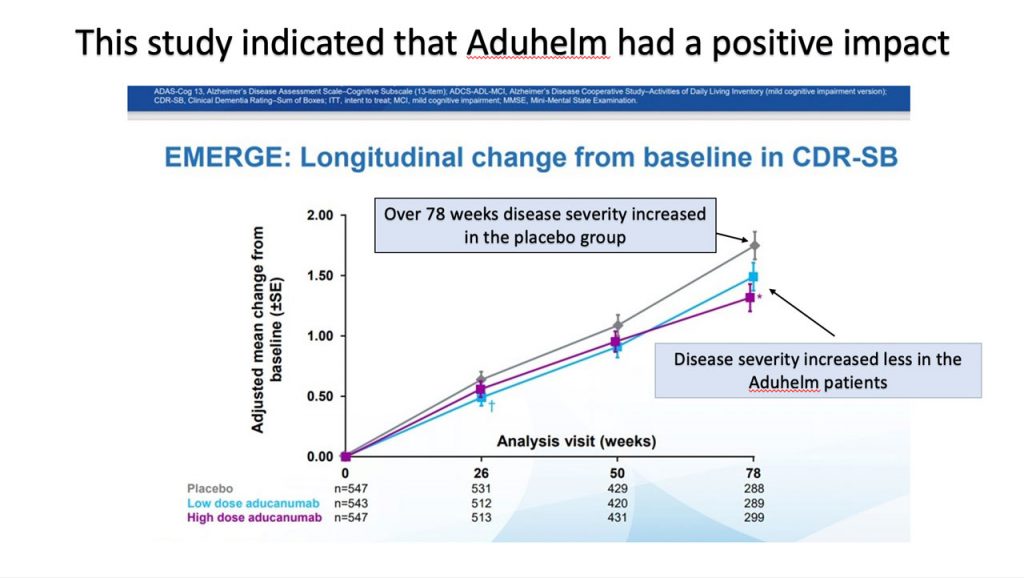 In addition, there is strong evidence that Aduhelm results in less amyloid plaque in the brain.
Aduhelm is definitely not a cure.
It will not reverse decline in brain function. It will not stop Alzheimer's Disease from progressing. Aduhelm reminds me of other drugs that have been used for Alzheimer's Disease. It might slow the rate of decline. Some patients and families have told me that these other drugs were "useless" because the disease still progressed. Other families were glad that the drugs helped keep "Mom with us as long as possible".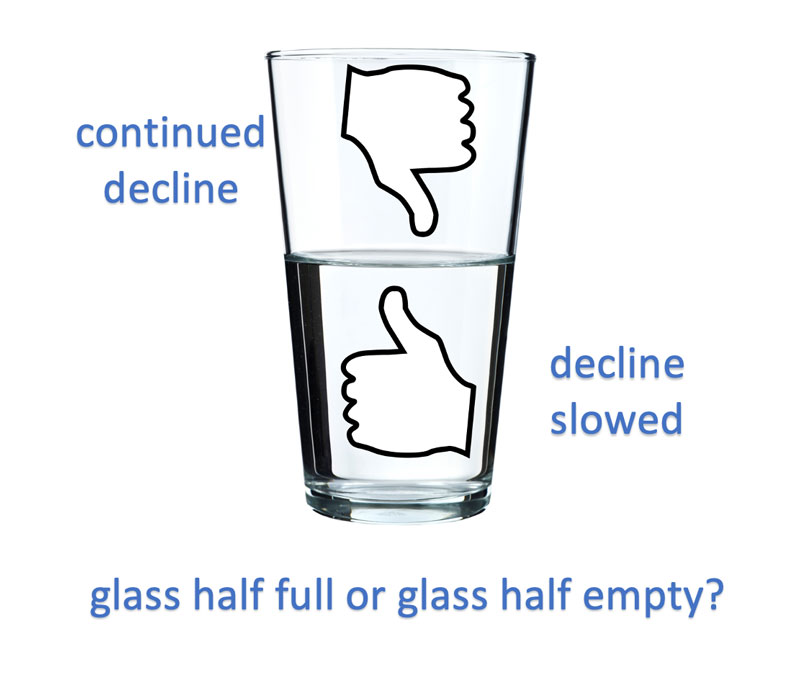 Is there anything "bad" about Aduhelm?
More than one third of patients receiving the high dose of Aduhelm had abnormal brain scans.
Abnormalities included some edema (swelling) and some very small areas of bleeding. These patients did not have any symptoms 75% of the time. However, 25% developed symptoms such as headache, confusion, dizziness, or nausea.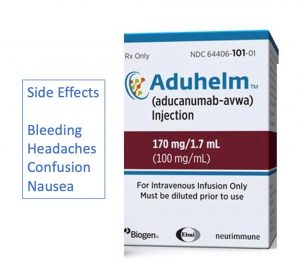 Overall, serious side effects occurred in over ten percent of patients. However, serious side effects were equally common in patients on placebo and in patients on Aduhelm. Some patients dropped out of the study because of Aduhelm side effects. There were major side effects, including seizure, in a small number of patients.
Aduhelm cannot be taken by mouth. It is given by one-hour infusion every four weeks.There is no clarity about how long the medication should be given. Once the mediation is started, no one can say for sure whether the medication is having a positive impact or not. Some institutions or health plans may decide to discontinue the medication when the Alzheimer's has progressed to a more severe stage.
An MRI needs to be done at baseline and periodically after that.
Aduhelm is expensive.
The cost of the drug is $56,000 per patient per year. There are additional costs for the infusion, imaging of the brain and for visits to specialists. Insurance coverage will vary but the drug is very likely to be costly to many patients.
Who can get Aduhelm?
80% of patients in the clinical trials had Mild Cognitive Impairment due to Alzheimer's Disease ("pre-Alzheimer's"). 20% had mild Alzheimer's Disease. The FDA has approved the medication for use in patients at these stages of the disease.
Most patients with Alzheimer's Disease do not meet criteria for the medication because they have more severe stages of the disease.
Aduhelm is not currently available in most places across the United States. Many institutions are now preparing policies and procedures for use of the drug. Consultation by a specialist is very likely to be a requirement. Insurance companies and Medicare have not yet produced coverage policies.
Aduhelm can be used concurrently with other medications that are used for Alzheimer's Disease.
Some thoughts:
Aduhelm has been FDA approved but many experts disagreed with the approval. The FDA is requiring a Phase IV study, but patients will be able to receive the drug without being in the study. The Phase IV study will collect more data about the safety and efficacy of the drug. 6000 patients will be enrolled over 4 years and results will be collected for the following 5 years. As a result, final data will be collected in 9 years. The Phase IV study is likely to provide a clearer picture of the long-term impact of the drug. It will be interesting to see if the impact is greater or less over many years.
There is good evidence that Aduhelm results in fewer plaques. One area of interest might be the use of Aduhelm in the preclinical stages of Alzheimer's Disease. At that stage plaques are forming but there is no evidence of cognitive problems. Other studies using other drugs are doing this type of research.
Other drugs using similar mechanisms of actions are likely to be approved over time. This may result in lower cost of medications such as Aduhelm in the future.
More than 150 clinical trials of multiple investigational drugs have failed to result in a positive impact on Alzheimer's Disease. Most of these studies focused on decreasing amyloid plaque. Many newer drug trials are not focusing on amyloid.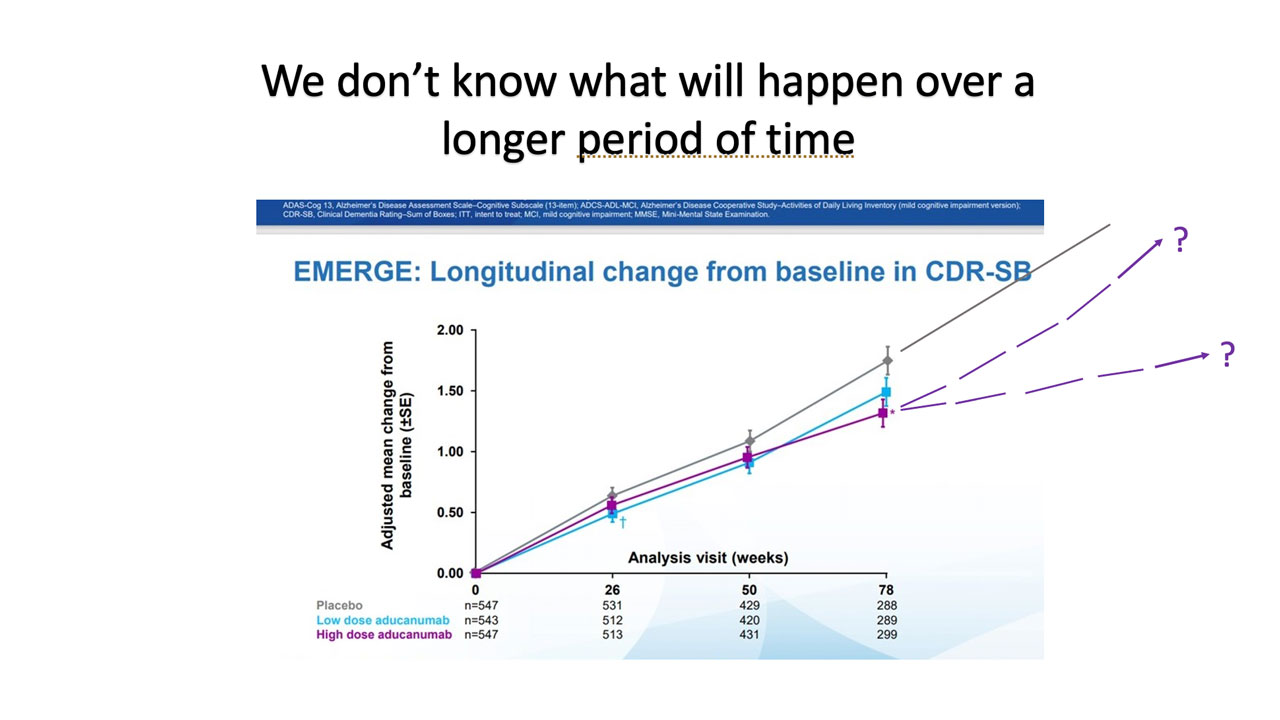 Addendum
Two Congressional committees have raised concerns about the FDA approval process for Aduhelm and are investigating further.  Some major medical centers have decided not to offer Aduhelm. The Department of Veterans Affairs has decided not  to have the drug on its formulary.
Your thoughts:
With Aloha,

PS: Here's a pdf with more Aducanumab (Aduhelm™) Information